Logos with a meaning | creativebits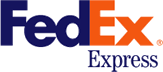 Check out Logos with a meaning on creativebits.
An interesting post on some clever logos, which holds a couple of surprises concerning two very well-known logos (the first one and the last one in the article). I don't know about you, but these "subtleties" had totally escaped me.
Tweet